03.09.2021
Amakusa Airlines Starts Distribution with INFINI LCC Search
INFINI Travel Information, Inc. (INFINI-HDQ: Tokyo, Japan: CEO-Kimio Uemura, Capital: JPY 4 billion, Ownership: 60% ANA Holdings Inc. / 40% Everest Investment Holdings Limited)and Amakusa Airlines Co., Ltd. (Headquarters: Amakusa City, Kumamoto Prefecture) announced the launch of reservation and ticketing functionality in INFINI LCC Search making Amakusa Airlines services available (*) under the airline's code (MZ) from March 9, 2021.
Commencing operations in 2000, Amakusa Airlines is a regional Japanese airline based at Amakusa Airport in Kumamoto Prefecture. Using ATR42-600 aircraft (48 seats) the airline connects the Amakusa islands in Southern Japan to major Japanese mainland cities such as Fukuoka, Kumamoto, and Osaka.
Amakusa Airlines Operation Schedule 2021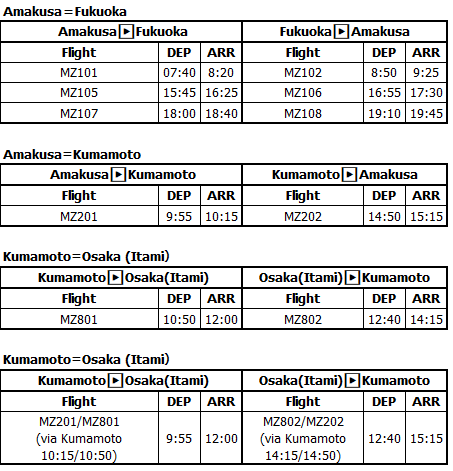 The above is the flight schedule as of January 3, 2021.
*INFINI is the distributor for UK-based technology provider Travelfusion in the Japan market. INFINI LCC Search enables the distribution of LCC content of over 100 airlines from 30 countries to our partner travel agencies with the INFNI Linx Plus product powered by Travelfusion API technology.
Requiring only simple API integration, INFINI LCC Search is an easily implemented, cost-effective way to expand your reach to our network of close to 1,100 partner travel agencies in Japan.
For more information about LCC Search, please click here and contact us.