Case Study: INFINI LCC Search for Peach Aviation
The Challenge: Extending Distribution Reach for New Business in Japan
INFINI is the distributor for UK-based technology provider Travelfusion in the Japan market. INFINI LCC Search enables the distribution of LCC content to our partner travel agencies via the Travelfusion API technology.
Japanese LCC Peach Aviation, based in Kansai Airport, Osaka, has been an INFINI LCC Search user since 2015. Since then, Peach Aviation has successfully increased the reach of its distribution using LCC Search, and INFINI is continuing to support Peach Aviation through joint sales efforts and promotion to agents not yet familiar with INFINI LCC Search.
We asked Mr. Robert Thomas, Sales Manager at Peach Aviation, for his thoughts on INFINI LCC Search.
INFINI: What was your reason for choosing to use INFINI's LCC Search solution?
Peach: We wanted to reach travel agents in Japan who were mainly doing business using the traditional GDS distribution channel, but had some untapped customer demand for LCC flights. INFINI LCC Search enabled us to fill this gap in the market between the GDS and our direct sales through the Peach website, thus expanding the reach of our distribution.
INFINI: What has been your experience after implementing INFINI LCC Search?
Peach: As awareness of the benefits of selling LCC content grew among agents, our sales through INFINI LCC Search have increased each year. Segment growth has increased by 409% year on year from fiscal year 2017 to 2018, and even more dramatically by 1445% in 2019.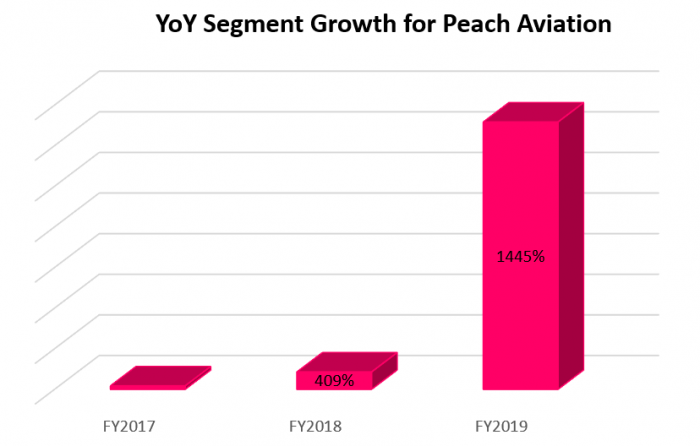 INFINI: How has INFINI LCC Search assisted the effectiveness of your distribution?
Peach: On the one hand, INFINI LCC Search has provided us with a cost-effective distribution channel to reach potential customers who might not be familiar with the Peach website and/or how to book LCC flights directly through the website, preferring instead to book their flights through a travel agency. In addition, LCC Search has also helped Peach Aviation reach business travellers by enabling us to target clients who would not ordinarily have enough volume to enter into a direct B2B agreement with us.
INFINI: What will the future of your INFINI LCC Search distribution look like?
Peach: We always want to meet the market demand for simple and efficient booking processes. We hope to add new functionalities to LCC Search going forward which will give travellers more flexibility and enable them to customize their journey based on their individual needs.