04.28.2021
JAL to Turn Low-Cost Carrier Spring Airlines Japan Into a Subsidiary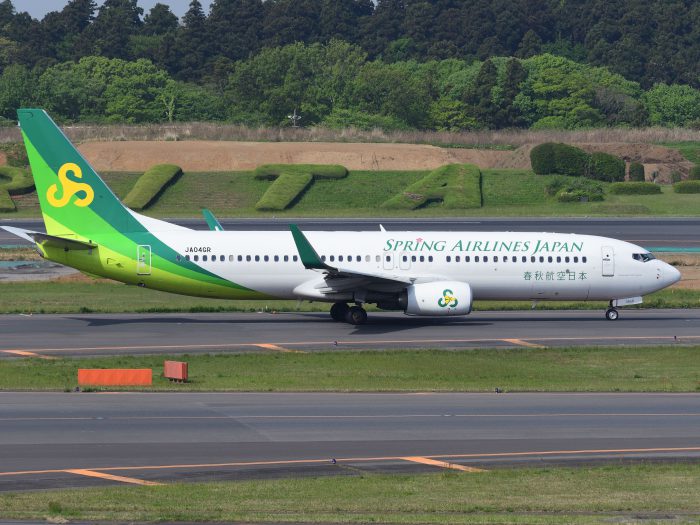 Japan Airlines Co. confirmed media reports that it plans to invest several billion yen and increase its current 5% stake in Spring Airlines Japan Co. to 51% or more, turning the LCC into a subsidiary company. While further details of the investment will only be made public when JAL releases its midterm business plan on May 7, it is expected that the investment will take place in June.
JAL raised about ¥180 billion through a public stock offering in November. While the bulk of this amount will go towards fleet replacement and measures intended to counter the economic downturn brought on by the pandemic, the company plans to allocate around ¥10 billion to investments in Spring Airlines Japan and Jetstar Japan.
Founded in 2012, Spring Airlines Japan is 48% owned by Chinese carrier Spring Airlines, with the remaining 52% owned by Japanese investors. The LCC is based in Tokyo Narita International Airport and has a fleet of six Boeing 737-800s. Its destinations include three domestic airports and Tianjin and Harbin in China. It posted a net loss of ¥2.7 billion in 2019 and had to reduce staff due to the pandemic.
In addition to the investment in Spring Airlines Japan, JAL has also increased its stake in budget airline Jetstar Japan, which operates 22 Airbus A320s, to 50% in November 2019 after acquiring Mitsubishi Corporation's 16.7% stake in the carrier. In 2018, JAL established Zipair Tokyo, which commenced passenger flights in October 2020 after the pandemic repeatedly delayed its inaugural flights.
This latest investment will put JAL in a strong position to take advantage of the projected resurgence of demand for travel to and from China once the COVID-19 pandemic subsides, enabling the company to make inroads into parts of the Chinese market it has previously been unable to reach. In 2019, at the height of the inbound tourism boom, Japan recorded 31.9 million foreign visitors, of which an estimated 9.6 million travelers arrived from China. JAL estimates that the industry will be back to 2019 levels by 2025, and that China will once again become the biggest market for inbound tourism. In particular, short-haul LCC routes are expected to be the first to rebound, and JAL is well-positioned to take advantage of the recovery in this sector.